Royal Life Centers knows that finding the right drug and alcohol treatment program can be a dizzying task. With so many options out there it can be a difficult decision when choosing a facility for yourself or a loved one. Royal Life Centers at Puget Sound takes the guesswork out of this often-complicated process. The comfort and safety of our guests is always top priority, which shows throughout our program. For starters, each of our spacious bedrooms features flat screen TV's and Dish Network, allowing guests privacy and comfort while enjoying their favorite show. Our beautiful, state of the art commercial kitchen, is where our private chef will prepare you delicious gourmet meals. We offer yoga as well as a cross-fit style exercise program for those who choose to participate. When you're done sweating it out, our community game room is loaded with a pool table, mini basketball, karaoke, guitars, and a growing list of other activities. Our program utilizes highly trained mental health professionals and offers clients daily access to a clinical therapist. Each guest's well-being and success comes first at Royal Life Centers, Because We Care.
Our Addiction Recovery Programs
Detox is the shortest phase of the recovery process, but it is also the most crucial. Because We Care Royal Life Centers at Puget Sound is sensitive to the earliest stage of recovery. When taking the first step toward a new life, one will experience a wide range of emotions.
Residential inpatient treatment following detox at Royal Life Centers at Puget Sound is encouraged, as it is often when self-discovery and change can begin. In addition, we provide dual-diagnosis and medication management. Our residential inpatient program also involves daily group and individual therapy sessions.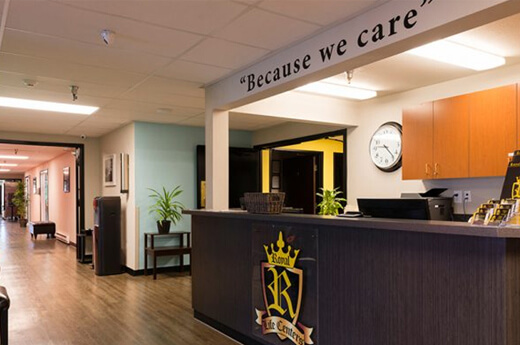 The second stage of our twelve-week aftercare program, our intensive outpatient program (IOP) provides guests 4-weeks of increased freedom and flexibility.
Our outpatient program requires guests to attend group therapy weekly and individual therapy sessions monthly. Our outpatient programming allows for guests to have more flexibility, but have all of the same support available to them.
"I recommend this detox fully for anyone that's ready to change there life! I did a 4 day medical detox and stayed for the residential inpatient program the staff was friendly and the atmosphere was beneficial to my recovery. I truly loved the group facilitators and the cultural ceremonies of the local native tribes."

– Mike S.
ROYAL LIFE CENTERS AT Puget Sound