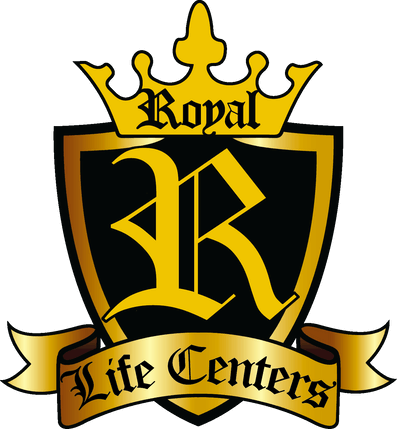 Welcome to Royal Life Centers
We are a nationally-recognized addiction treatment network with over ten years of experience in the field. Our specialties include quality care, comprehensive treatment programs, and a full continuum of care. Our continuum is designed in a step-down program model— as you progress through our full treatment program, you receive more freedom and less structure so that we can prepare you for independence in sobriety. Part of our comprehensive program is providing you with all of the tools you need to re-build a sober lifestyle. From obtaining your GED to building a resume, learning interview skills, and finding a job to becoming an active member in a recovery community, we help and support you through each step of the way.
Voted one of the top ten rehabilitation centers, Royal Life Centers was recently featured on

read the full article here
Tell Us About You or Your Loved One Who Is Seeking Treatment
*if we are not the right fit for you, we will help you find a treatment center that is
We Will Take A look At Your Insurance Policy (If You Are Using Insurance)
In Order to Provide Coverage Details
We Will Do a Quick, 5-10 Minute Pre-Assessment To Ask Preliminary Questions Before We Schedule For You To Come In
Schedule A Date and Time To Come In
Lacey, Washington
Sumner, Washington
Spokane, Washington
Mead, Washington
Professional Medical Detox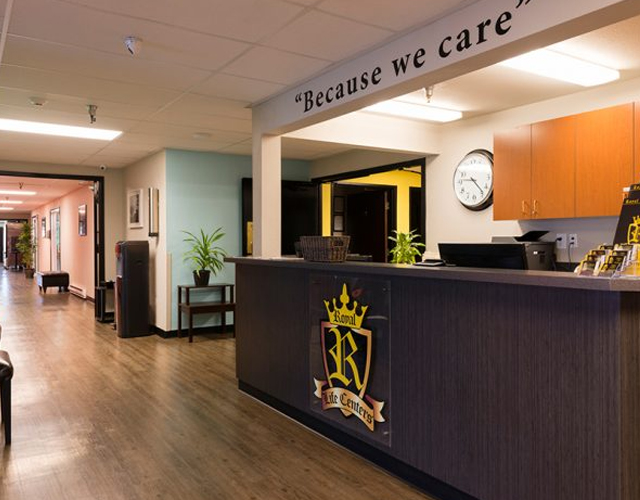 Our facility continues to win awards for the quality of our care, success of our programs, and for upholding standards of excellence in addiction treatment.
At Royal Life Centers, we are not just effective— we make your stay with us comfortable. You will always be treated with respect, provided with all amenities and given a clinical team who will work with you individually to ensure that your needs are met and goals are achieved.
An environment that is perfectly regimented to support your recovery.
We provide comforts that you would be able to find in your own home, to bring a recovery experience that doesn't feel like a hospital setting. We have amenities like laundry services, an in-house chef who cooks you three meals each day, a fully-stocked kitchen that remains open at all hours, books, games, flat screen televisions in each room, etc. These small comforts help you to not only feel at-home during your stay, but they allow you to focus solely on feeling and getting better. 
How Successful are Our Programs?
We have notable success in our treatment programs. One study of our treatment outcomes reported over a three-month period, using information from 295 guests found that…
Over 60% of patients reported symptoms of depression during intake; upon completion of our program, only 7% reported still experiencing these symptoms.
Over 55% of guests reported anxiety during his or her intake, after treatment only 9% reported still feeling these symptoms.
58% of guests reported trauma symptoms during his or her initial intake; after completing our program, only 18% reported experiencing persistent symptoms of trauma. With a median stay among guests being 19 days, almost 87% of guests reported that his or her personal treatment goals were met. (Vista Research Group 2020).
While most detox centers will hide their success metrics, we have worked tirelessly to design our detoxification program to ensure that it helps our guests achieve success in sobriety. When you enter our program at Royal Life Centers, you will begin therapy sessions on day one. We find that integrating intensive therapies early on in treatment is one key to success for our guests.
4 or 8 Days in length.
*Length depends on the severity of your withdrawal symptoms, and whether or not you require a narcotic medication as part of your detoxification protocol.
9-Weeks in length, with an option to extend your stay.
We offer a sober living facility for guests who wish to continue care with us— you are permitted to stay in our sober living facility for as long as you wish, given that you are able to maintain employment and participate in some form of continued treatment (i.e. therapy sessions, support groups, etc.)
Successful Rehabilitation
Treatment outcomes show that our comprehensive programs are successful.
Most detox centers will not provide information for their treatment outcomes. For us, we are proud of the quality care we provide to the point where we hired a company to analyze our success as a treatment provider. From this data found, over 3/4 of our guests rated us in the highest tier of satisfaction for their overall treatment experience.
Does My Insurance Qualify?
We work with many insurance providers! Because there are countless different plan types and benefits within each insurance policy, the best way to get an accurate overview of your particular plan is by reaching out to us directly over the phone, or by filling out the form below. Our admissions department will take a look at your policy in order to give you detailed information on any remaining deductible, out of pocket costs, and benefits you may have.
We believe in providing you with an accurate and unwaivering cost, so that you know exactly what to expect before deciding to enter into our treatment program. Don't have insurance? That's okay also. Anyone who is asking for help deserves the best treatment, which is why we keep our private payment costs as affordable as we possibly can.
Our Medical Detox program is a comprehensive and accelerated program. You will be treated medically, with detox medications provided to keep you comfortable during the withdrawal process.
Upon admitting, you will meet with one of our medical professionals to undergo a full evaluation and clinical assessment. During this evaluation, you will answer questions about your medical history, drinking/drug history, family medical history, etc. For your clinical evaluation, clinicians will assess for any co-occuring disorders and determine the severity of your substance use disorder. Your medical evaluation and assessment is important for our medical team to help design an effective detox protocol for you.
From the very first day of detox, we implement therapies alongside your medical treatment. Our goal at Royal Life Centers is to identify the underlying cause or causes of substance abuse, alcoholism, or drug addiction and provide the tools and coping mechanism education needed to help you re-build a happy, healthy and meaningful life in sobriety. We provide individual therapy sessions, group therapy, EMDR (trauma) therapy, in addition to other therapies like art therapy, music therapy, biofeedback, etc.
Building a support network for you is a top priority during our medical detox program. Upon admitting into our program, you will be assigned professionals who will make up your personal clinical team. Your clinical team is largely made up of your primary therapist and case manager during detox, but if you do choose to progress through our entire treatment program, you will gain other members to your team like an employment specialist, housing manager, etc. Each clinical team communicates closely with our medical staff and our chief clinical officer so that we can ensure each guest is getting the best care possible.
During our medical detox program, we will provide 24/7 medical care. Our nursing staff monitors your symptoms of withdrawal, in addition to your overall medical condition to ensure that you are comfortable through out your stay. Any concerns or needs will be addressed around the clock. After your initial evaluation and assessment, our medical team will design a customized detox protocol for you. We do provide detox medications to ease your symptoms of withdrawal, making your detox comfortable, safe, and effective.
"I recommend this detox fully for anyone that's ready to change there life! I did a 4 day medical detox and stayed for the residential inpatient program the staff was friendly and the atmosphere was beneficial to my recovery. I truly loved the group facilitators and the cultural ceremonies of the local native tribes."

– Mike S.
ROYAL LIFE CENTERS AT Puget Sound
Change your life with one call.
We can help.